Last week at CES 2011, Thermaltake revealed it updated version of the Level 10 chassis, the Level 10 GT. In Thermaltake's own words, this is what they have to say about the new chassis.
"The design language of the Level 10 GT expresses a passion for visual aesthetics deriving from demanding and immersive game play and multimedia entertainment enthusiasm," the company said. "Modern games and entertainment
applications
also require highly advanced hardware configurations, which at the same time request more space and optimized ventilation than conventional hardware."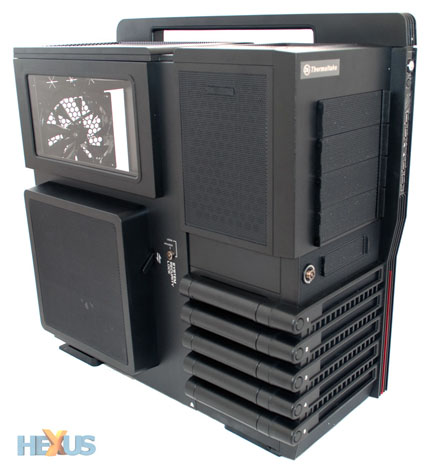 The full tower chassis weighs around 28 pounds and supports
motherboards
up to eATX. It also provides room for four 5.25-inch drives, five internal hot-swappable 3.5-inch or 2.5-inch drives, and an external 2.5-inch drive. There's a 360-mm limit for VGA cards, a 190-mm height limit for the CPU cooler, and support for 1/2-inch, 3/8-inch and 1/4-inch water tubes. There's even room for a top-mounted radiator.
To satisy your cooling needs, the Level 10 GT's LED ColorShift system has a 200-mm front intake, a 200-mm top exhaust fan and a 200-mm side fan. Other features include a 140-mm rear Turbo exhaust, a windowed side panel, an all-black exterior and interior, and a top-mounted I/O panel with two USB 3.0 ports, four USB 2.0 ports, one eSATA port and one HD
Audio
port.
All I can say is that after the Level 10 chassis, this chassis seems an even more sexier option with no loss of functionality. I surely would like to get my hands on this chassis for a review.
As of now, there is no word on pricing. However, if this is priced even around the range of the Obsidian 800D, expect this to sell like hot cakes.
Picture Source:
Hexus